WSCG'2001
The 9-th International Conference in Central Europe on Computer Graphics, Visualization and Computer Vision 2001
held at the University of West Bohemia, Campus Bory, Plzen, Czech Republic

February 5 - 9, 2001
Honorary Chair
Jarek Rossignac, GVU Center, Georgia Institute of Technology, USA
Co-Chairs
Nadia Magnenat Thalmann, MIRALab-CUI, Univ. of Geneva, Switzerland
Vaclav Skala, Univ. of West Bohemia, Czech Republic
International Programme Committee
List of IPC members - please click on
International Board of Reviewers
List of members please click on
Supporting organizations
Microsoft, Pilsner Urquell
---
WSCG'2001 programme
On-line Conference Program

On-line proceedings


WSCG'2001 organiser
Prof.Ing.Vaclav Skala, CSc.
during conference opening session



The Dean of the Faculty of Applied Sciences
Doc.RNDr.Frantisek Jezek, CSc.
delivering his opening speech
Computer Curricula 2001 session
The ACM - IEEE Computer Science Curricula CG2001 panel session was held during the WSCG event.
The current version of the CG2001 is available at http://www.acm.org/sigcse/cc2001/
Ewert Bengtsson: Computer Vision and Computer Graphics- Educational Activities at Uppsala University, University of Gavle, Sweden
Steve Cunningham: Computer Graphics in Computer Science Curriculum 2001, California State University, USA
Ioannis Kakadiaris, University of Houston, USA

Full photos repository is available here .
All presented papers have been published in the WSCG'2001 proceedings (click for the on-line version of accepted papers)
---
Acknowledgments
It is a pleasure to express the thanks of Co-Chairs to many "invisible people" who helped a lot during the conference organisation period and during the conference itself, especially to:
staff members: I.Kolingerova, P.Lederbuch, M.Krejza, M.Kuchar, P.Maur, L.Pesicka and many others, especially to technicians etc.

PhD and MSc.students of Computer Science: L.Demjancukova, J.Doubek, J.Dobry, J.Fornous, I.Hanak, M.Franc, T.Hlavaty, M.Janda, T.Jirka, J.Kohout, K.Novakova, J.Patera, M.Rousal, P.Sereda, P.Sladek, J.Suja, R.Svitak, K.Uhlir, P.Vanecek, and many others
---
General information
For the WSCG'2001 event
160 submissions arrived,
126 papers sent for reviews,
56 papers accepted as FULL papers,
20 papers accepted as SHORT papers
it means 35% acceptance ratio.
Fig.1 presents submission statistics according to countries, while Fig.2 presents submission statistics according to the field of a paper speciality


Fig.1.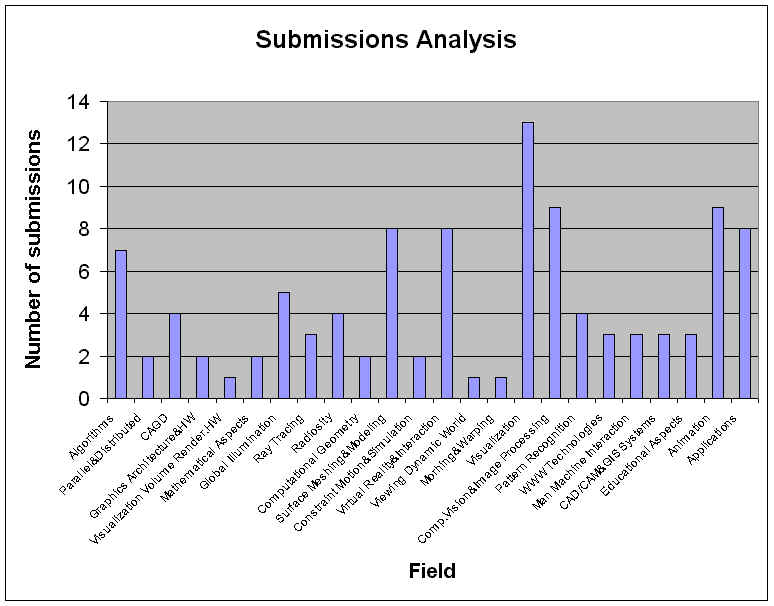 Fig.2.
Updated: 23.06.2001